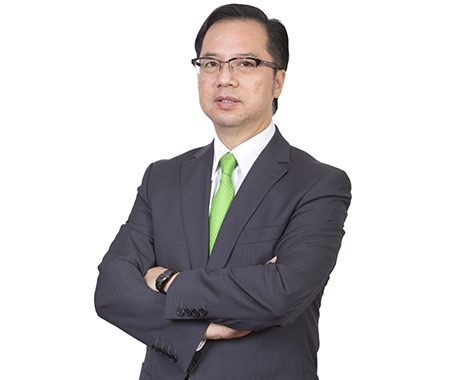 Paulino Comandante
Lawyer/Private Notary/China-appointed Attesting Officer
Graduated from University of Lisbon, Portugal, Faculty of Law, and hold an MBA from Renmin University of China.
Registered as a lawyer in Macao Lawyers Association in 1996. He established his personal law firm in Macao SAR since 1998. Besides being a registered lawyer in Macao SAR, He is currently also a registered lawyer at the Portuguese Bar Association, a Private Notary certified by the government of Macao SAR, as well as a China-appointed Attesting Officer nominated by the Ministry of Justice of the People's Republic of China. He has also obtained membership in various government committees, including  Commission of Legal Aid, The Macao Consumer Arbitration Centre – Centre of Mediation and Arbitration of Consumer Conflicts  and Commission of Registry and Notary of Macao SAR. In 2012, he was also merited the Medal of Professional Merit by the Macao SAR government. In 2017, he served as the instructor for professional training courses of private notary run by the Macao SAR government, and the committee member with respect to the training and examination of private notary, he also served as the temporary committee member of Centro de Formação Jurídica e Judiciária.
Apart from his achievement as a lawyer, Dr. Paulino has been an active member of Macao Lawyers Association (AAM) since 1997. He had served as the Secretary-General and the Secretary-General in the arbitration and mediation centre of AAM for many years. At present, he is a president of the Conselho Superior de Advocacia.
In 2018, he was appointed as arbitrator of Shanghai International Arbitration Center. In 2019, he was appointed as mediator of Mediation Centre of China International Economic and Trade Arbitration Commission. In 2020, he was appointed as arbitrator of Zhuhai Arbitration Committee. In 2021, he was appointed as arbitrator of China International Economic and Trade Arbitration Commission. In 2022, he was appointed as arbitrator of Zhuhai Court of International Arbitration and Shenzhen Court of International Arbitration.
Fluent in cantonese, mandarin, portuguese, English. With years of pragmatic experience in practicing law, Dr. Paulino has gained expertise in an extensive and comprehensive scope of legal areas, including but not limited to commercial and corporate law, civil law (obligation law, property law, contract law, tort law, family law, succession law, notarization, buying and selling of real estates), administrative law, labor law, criminal law, intellectual property rights. With respect to procedural law, he is expertise in civil procedural law, administrative procedural law, labor procedural law, criminal procedural law. He has also been working for one of the Macao SAR government department for years as legal counsel (mainly considering administrative procedure, administrative process, and commercial investments).
Core qualifications
Registered in the Macao lawyers Association
Registered in the Portuguese Bar Association
Private Notary in Macao SAR
China-appointed Attesting Officer
Arbitrator
Mediator
Education
Master of Laws, Renmin University of China, PRC
Bachelor of Law, University of Lisbon, Portugal
Professional Associations
1996 – 2020 Committee Member, Macau Lawyers Association (AAM)
           2020 Secretary-General, Macau Lawyers Association (AAM)
         – 2020 Secretary-General, Mediation and Conciliation Center of Macau Lawyers Association
2021 – Present President, Conselho Superior de Advocacia
Professional Associations (related to arbitration and mediation)
Arbitrator of the Shanghai International Economic and Trade Arbitration Commission (Shanghai International Arbitration Center)
Mediator of China International Economic and Trade Arbitration Commission Mediation Center
Arbitrator of Zhuhai Arbitration Committee
Arbitrator of China International Economic and Trade Arbitration Commission
Arbitrator of Zhuhai Court of International Arbitration
Arbitrator of Shenzhen Court of International Arbitration
Community Service on Government Boards and Committees
Present:
Committee Member, Legal Aid Commission of Macau SAR
Committee Member, Centro de Mediação e de Arbitragem de Conflitos de Consumo de Macau (The Macao Consumer Arbitration Centre)
Committee Member, Commission of Registry and Notary
Community Service on Government Boards and Committees
Past:
Committee Member, Conselho Consultivo para a Reforma da Administração Pública
Committee Member, Comissão de Ética para a Administração Pública
Committee Member, Comissão para os Assuntos de Reabiliação
Committee Member, Conselho Consultivo para o Reordenamento dos Bairros Antigos de Macau
Committee Member, Grupo Consultivo para o Desenvolvimento de Terrenos
Committee Member, Comissão para o Desenvolvimento do Sector Logístico
Committee Member, Assessment Committee of Performing Arts, Cultural Affairs Bureau
Committee Member, Conselho para a Renovação Urbana of Macau SAR